Training to improve knowledge and skills in legal assistance for community legal consultancy collaborators.
SATurday - 21/09/2019 12:01
On the 10th and 11th September, 2019, The Rural Development and Poverty Reduction Fund of Quang Ninh district (RDPR) organized a training course to improve knowledge and skills in legal assistance for the community legal consultancy collaborators under the project "Facilitating justice access to marriage and family, gender equality and prevention of domestic violence issues for poor communities and ethnic minorities in Quang Binh".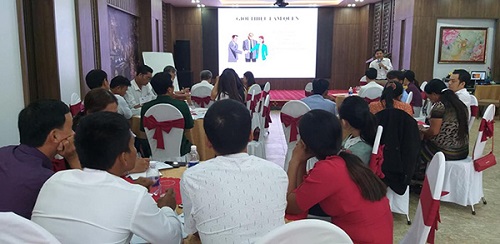 Collaborators from 05 communes including Truong Xuan, Truong Son (Quang Ninh district) and Kim Thuy, Ngan Thuy and Lam Thuy (Le Thuy district) were trained basic knowledge about laws on domestic violence, marriage and gender equality; the distinction of persons who are victims of domestic violence and other violations of the marriage and family law, as well as difficulties and challenges faced by these persons, the initial supports as regulated by the laws and what collaborator should know; the process to transfer the cases to lawyers and connect to solve; Necessary requirements to organize legal consultancy communication sessions at the local communities. Instructions for preparing and storing the case files of the victims, media records, legal consultancy at the communities, etc. In particular, community legal consultancy collaborators were exchanged, discussed, practiced to handle and deal with some common domestic violence cases in the communities; practice skills of recording information about the victims and cases; the process to draw up and store the case files to ensure that services are provided continuously, professionally and scientifically.etc.

The training course aims to equip for community legal consultancy collaborators the legal assistance knowledge and skills in gender equality, family marriage and domestic violence prevention, help collaborators to provide initial legal support for domestic violence cases and law violations, coordinate and conduct mobile legal assistance at the communities, contribute to promote access to justice, reduce domestic violence cases and violations in family marriage laws for ethnic women in Quang Binh province.