Applying FPIC in getting consensus of the community for the Forest Protection and Development Regulations
TUEsday - 30/12/2014 14:50
The activity "Building the consensus model based on the Free, Prior and Informed Consent (FPIC) principle for the development of the village Forest Protection and Development Regulations is conducted by Rural Development and Poverty Reduction Fund (RDPR) funded by German Society for International Cooperation (GIZ). It is implemented in Phu Nhieu village, Thuong Hoa commune and Ca Roong 2 village, Thuong Trach commune of Bo Trach district, Quang Binh from July 2013 to December 2013.
The objectives of the project is to provide local people with sufficient information related to the community forest protection and development that they could be involved in the development, contribution and complement for the regulations; and getting their consensus with them.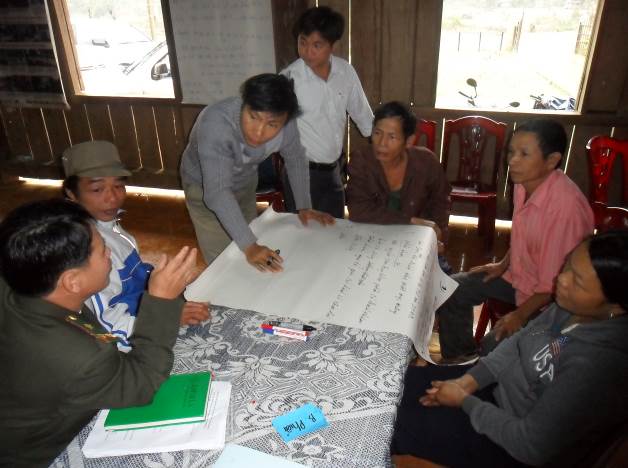 Holding meetings with local people to collect information




Getting consensus of community for the village regulations of Forest Protection and Development
All relevant information and data collected from reports, local authorities, people and the related projects are provided to local people. After the meetings of providing information to community, two meetings are hold to develop the regulations and getting the consensus from local people at these two villages. Two official regulations of Community Forest Protection and Development of Phu Nhieu village and Ca Roong 2 village are completed with the consensus of all village people and ensured the FPIC principle as the project's objectives.